Facial Skin Scrubber, Hot Compress, 3 in 1 Facial Scrubber Spatula, Blackhead Remover Pore Cleaner with 4 Modes, Skin Spatula Comedones Extractor for Facial Deep Cleansing
New Function - Hot Compress
It is designed with constant temperature of 36-42℃, helpful to open pores for impurities leading out and nutrition leading in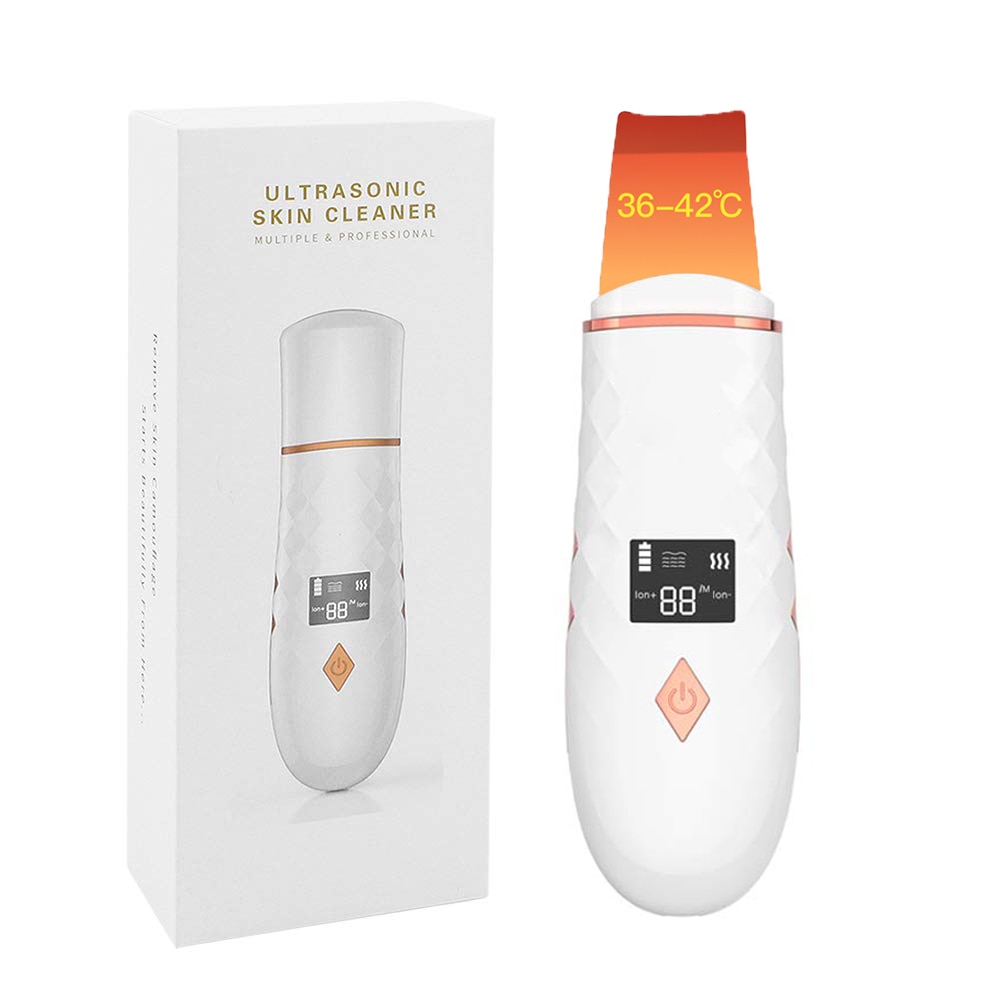 New Function - LED Display
Easy-to-use operation interface with LCD screen to display working status, more user-friendly and convenient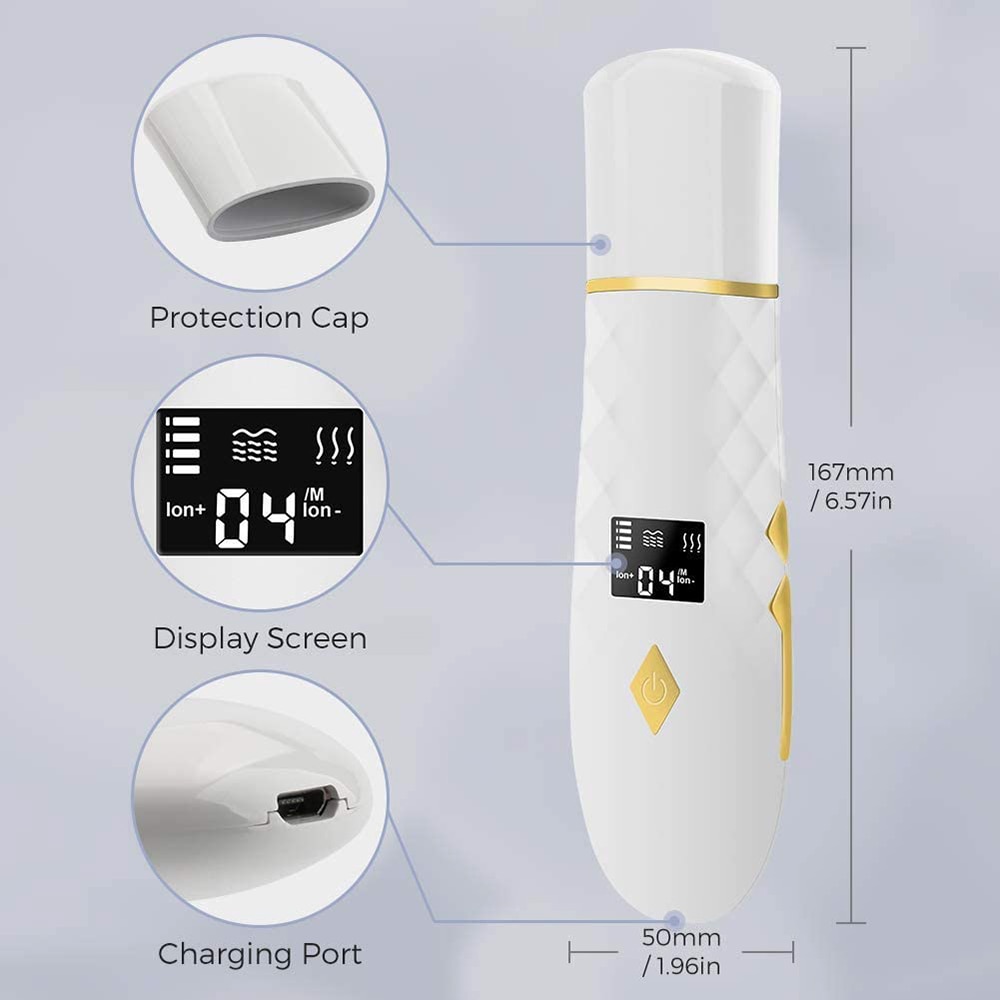 Description:
- Material: ABS, stainless steel
- Power supply: USB
- Power: 4W
- Voltage: DC5V
- Mode: 4 mode-Ultrasonic Mode/EMS Mode/Ion +/Ion-
- Hot compress temperature: 36℃-42℃
- Battery capacity: 600mAh
- Charging time: 2-3 hours
- Using time: 90 minutes
- Charging indicator: indicator flashes while charging, constantly on when fully charged
- USB cable length: 48cm±2cm
- Color: white, pink
- Package size: 16.4x4.9x1.8cm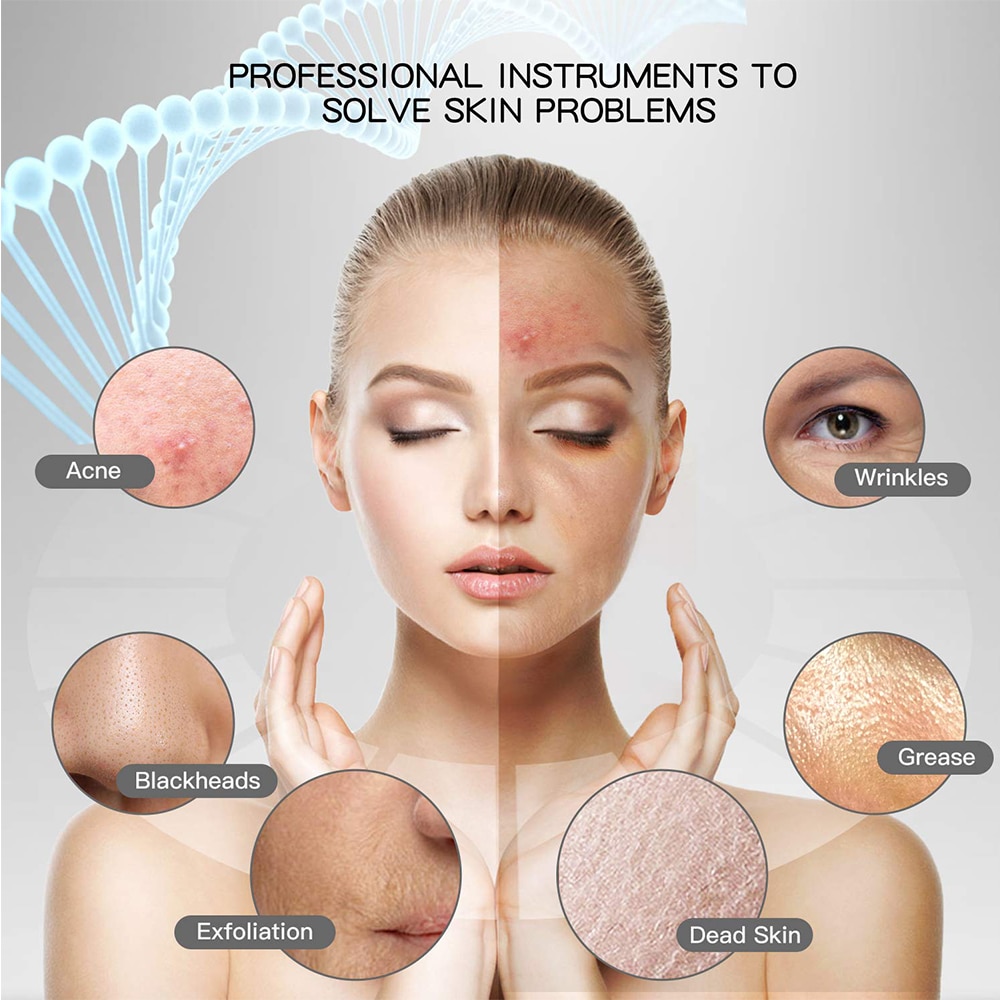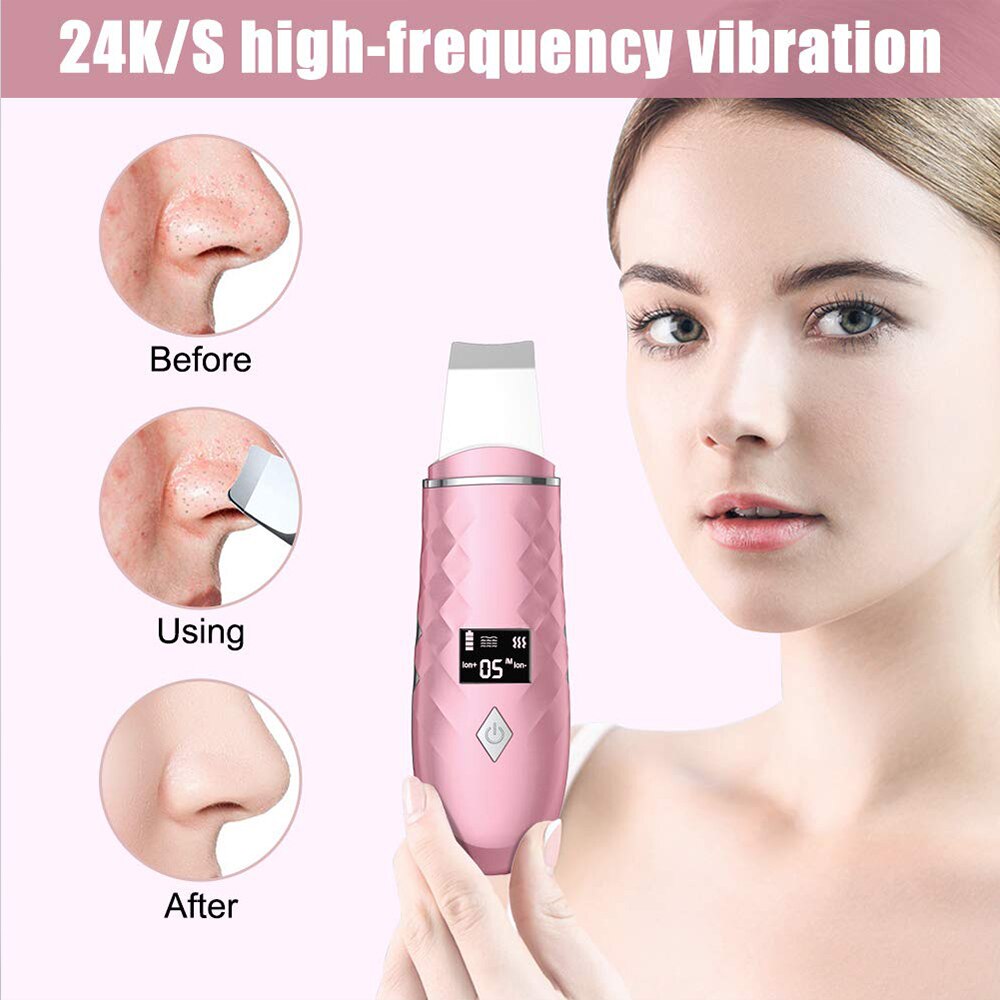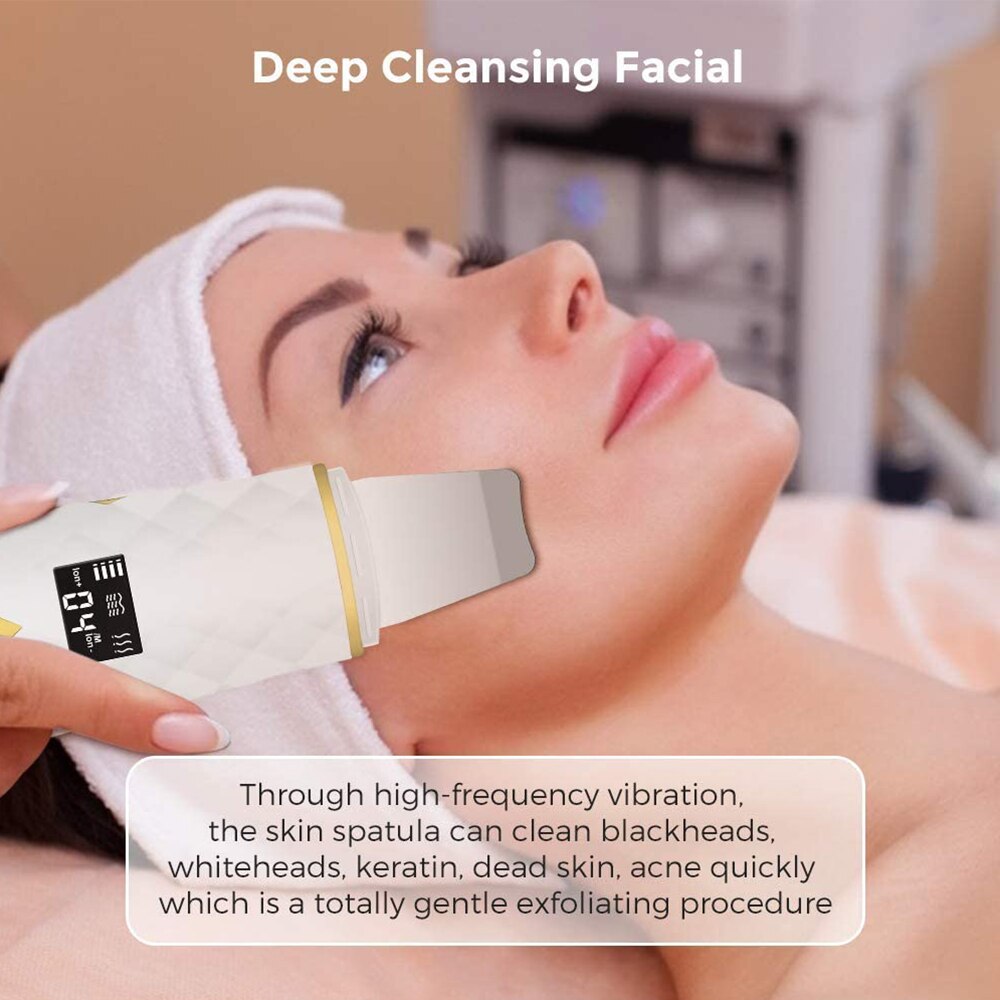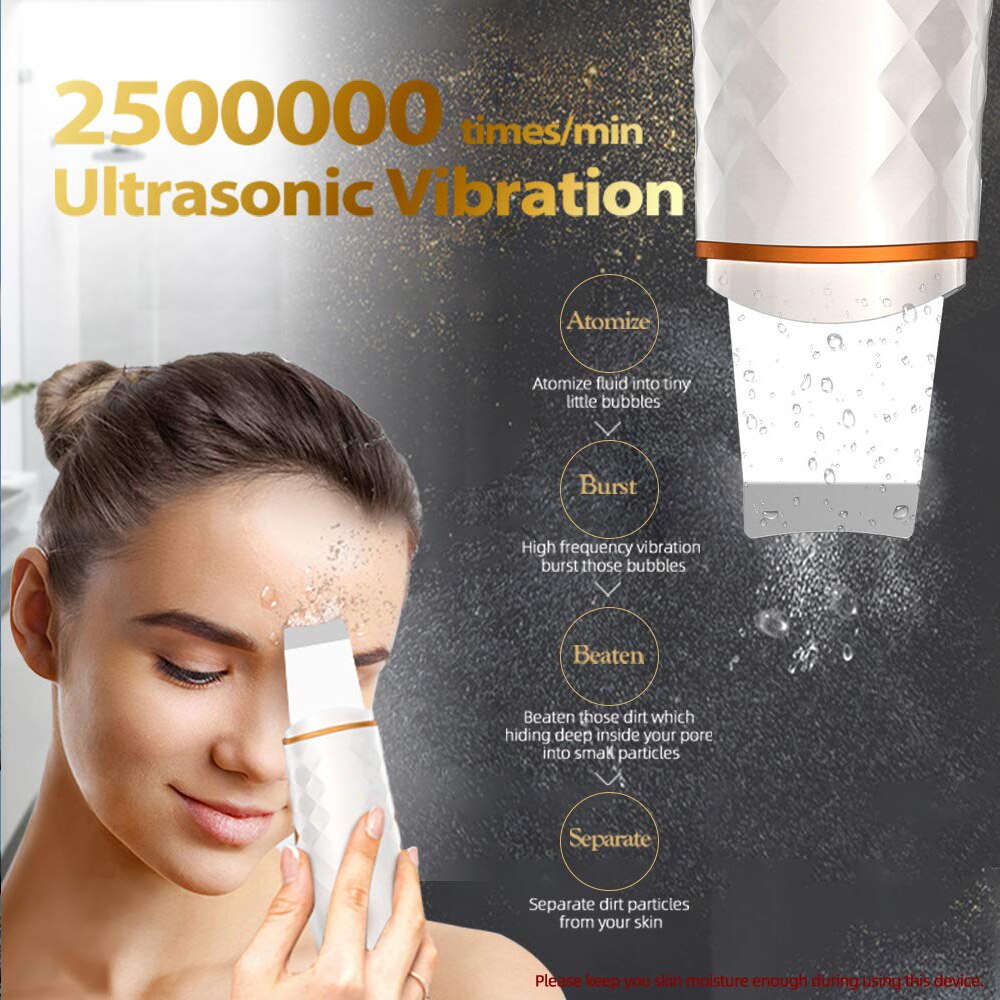 Feature
1) Enhance metabolism.
2) Improve skin elasticity.
3) Promote blood circulation.
4) Remove fine lines and wrinkles.
5) Improve skin regeneration and permeability.
6) Massage skin for better nutrition absorption.
4 Modes
1) Ultrasonic Mode - Cleaning: Deep cleaning of your skin due to high vibrations.
2) EMS Mode - Lifting: Helps to reduce wrinkles and fine lines, makes your skin shine again.
3) Ion +: Helps to remove blackheads, dead skin, dirt, or oil.
4) Ion-: Helps the skin absorb nutrition and lift the skin. Please use hot towel for 2 minutes to open facial pores before using the skin scrubber.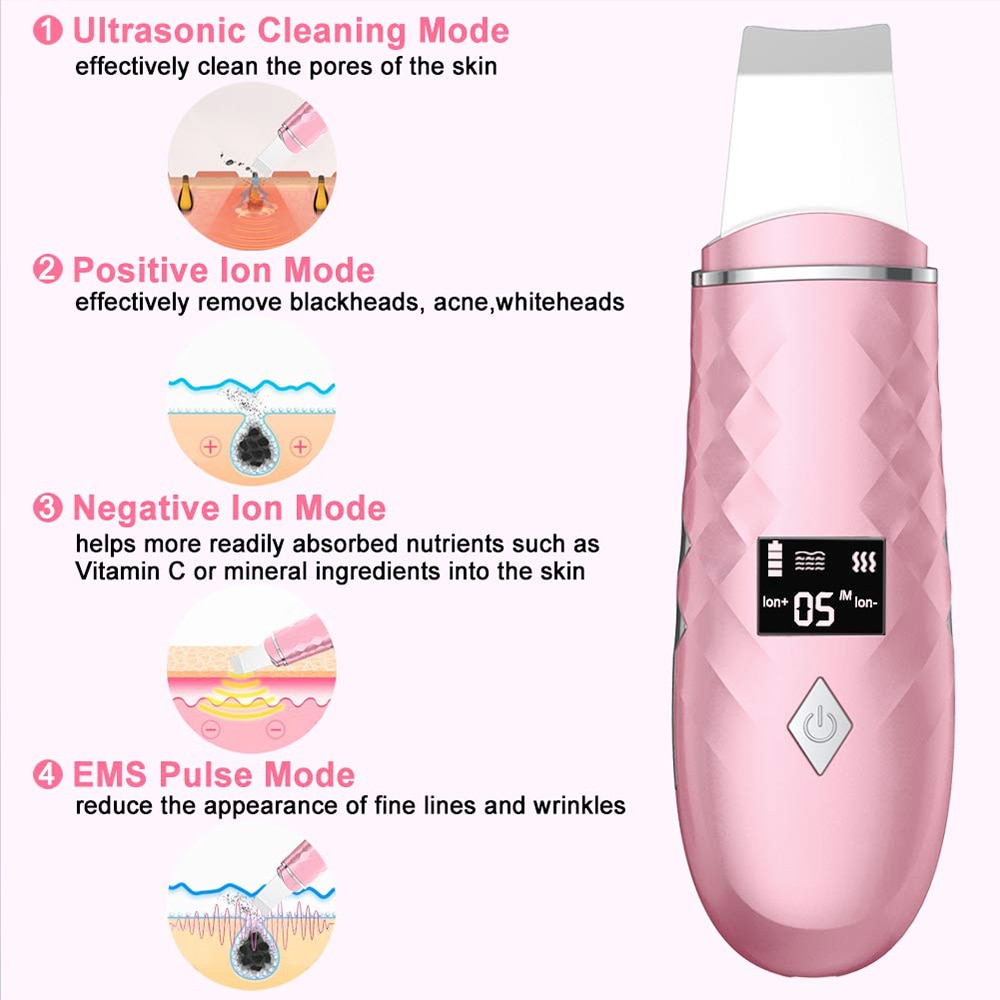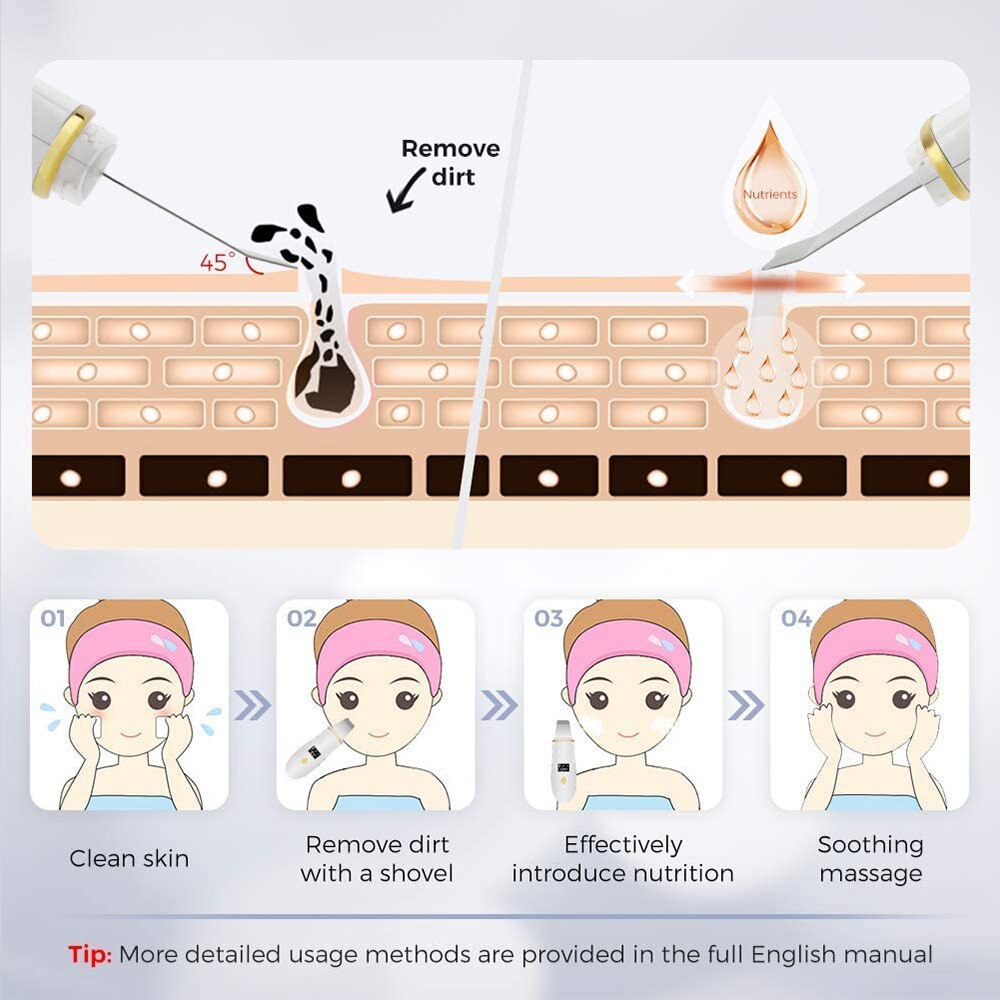 Ion+:
Helps remove blackheads, dead skin, dirt or oil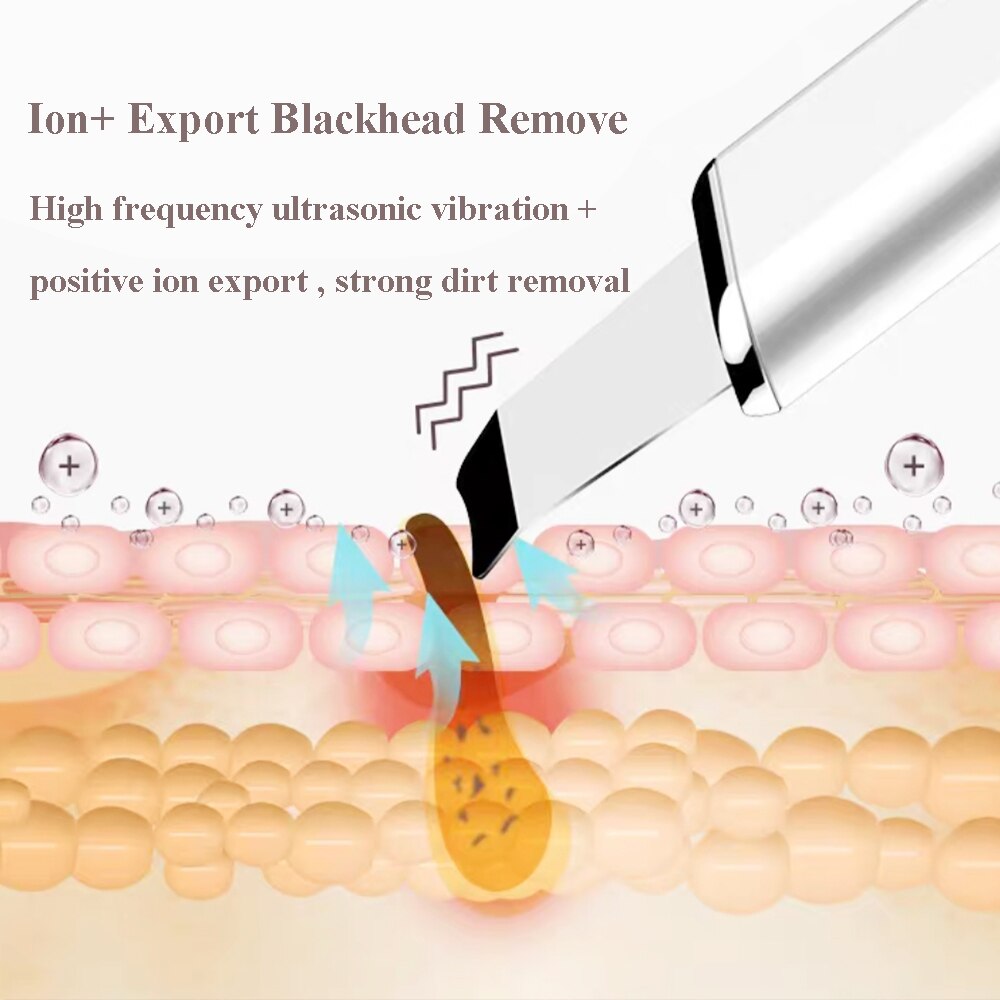 Ion-:
Help the skin absorb nutrients and enhance the skin.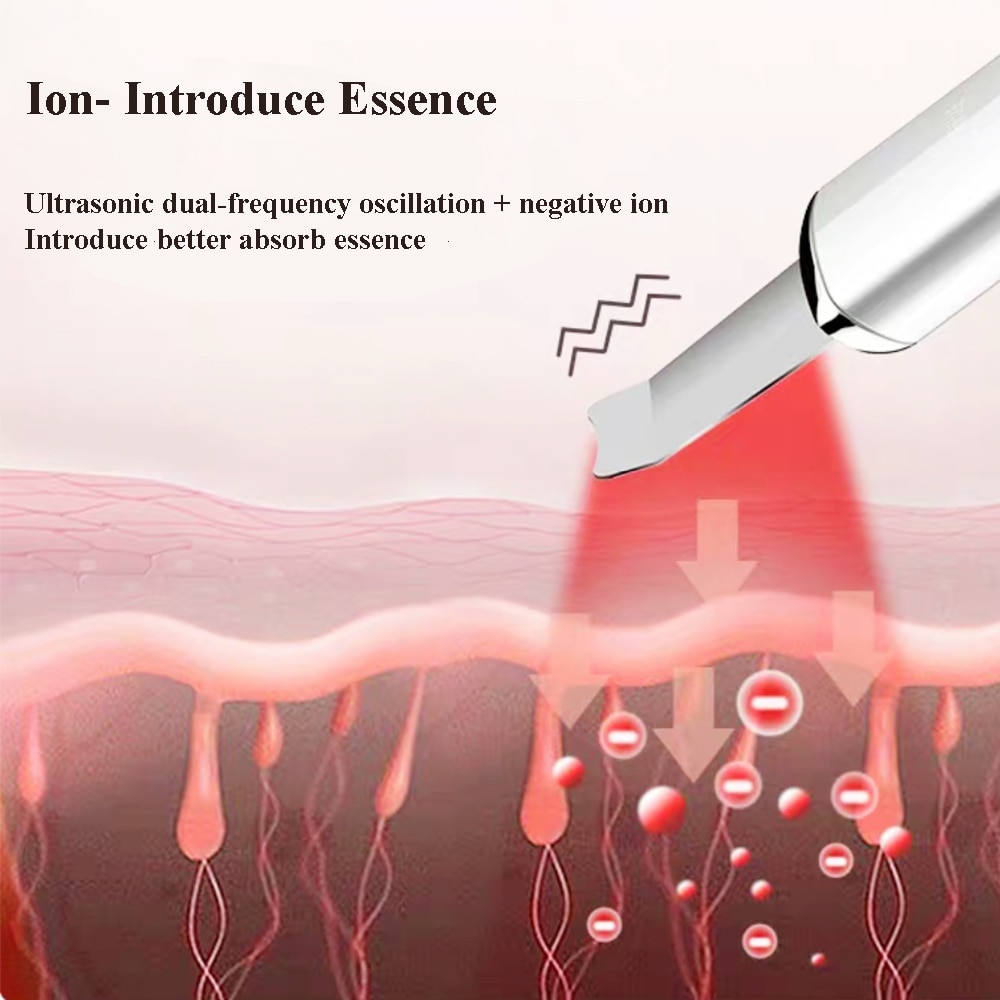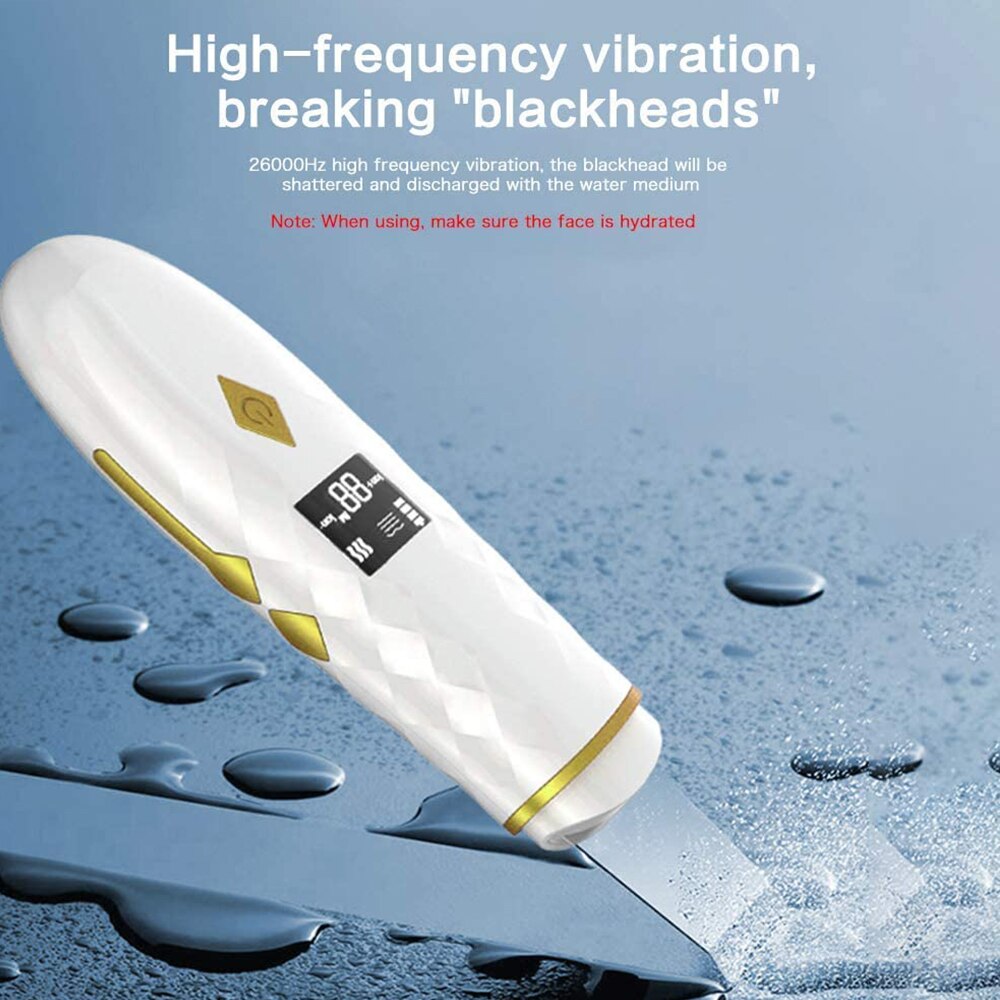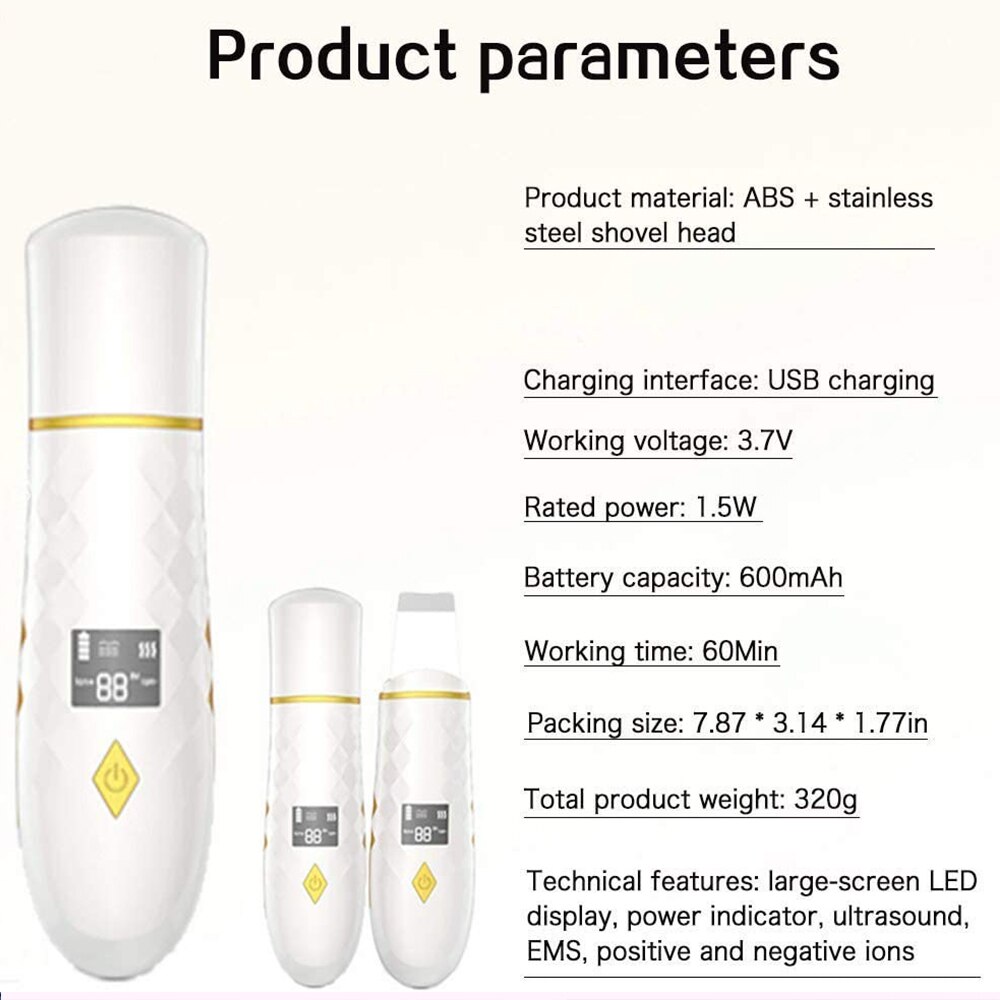 Choose you favorite color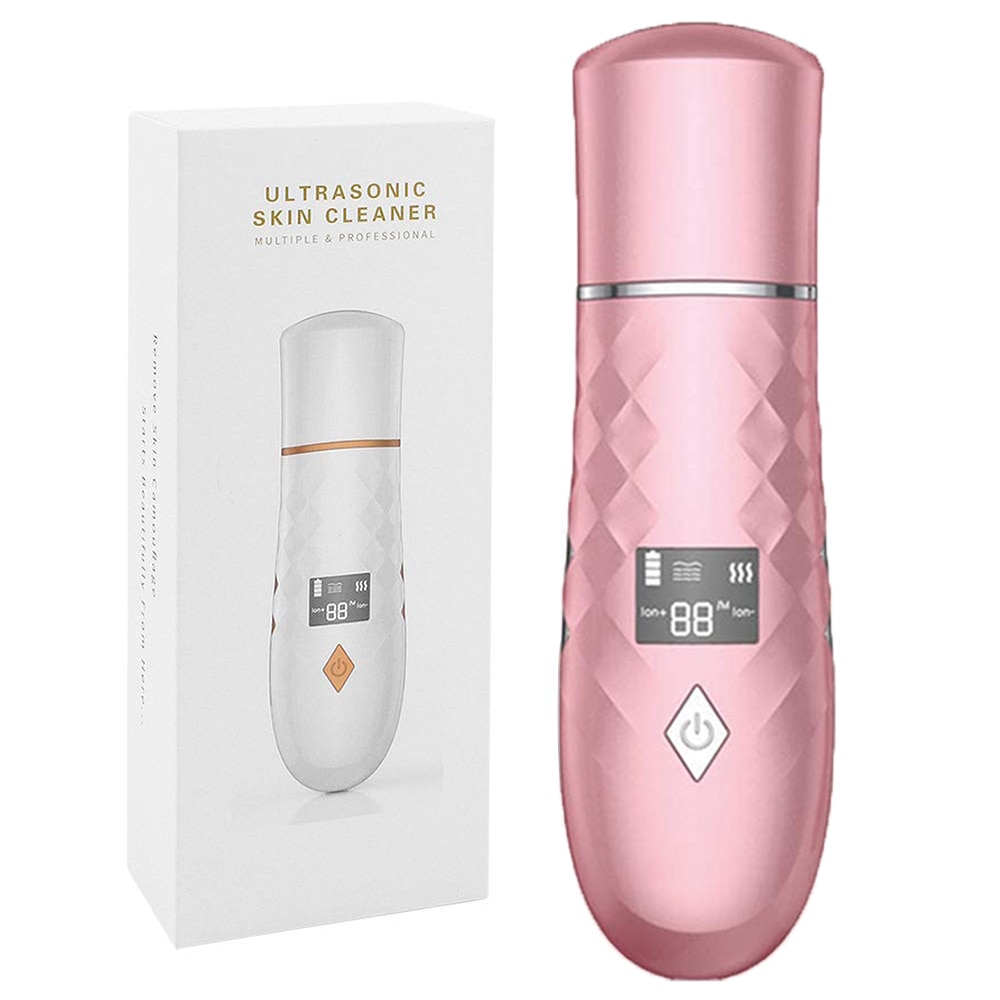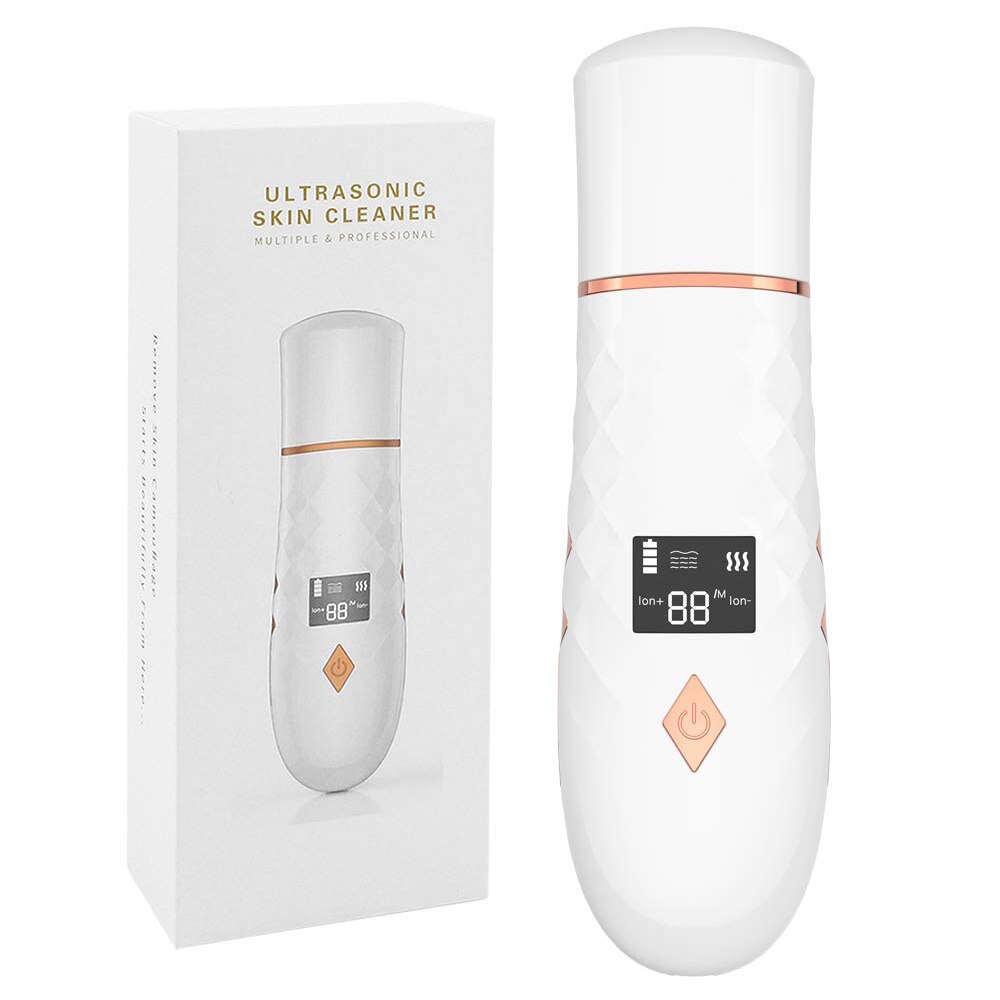 How to use?
Step 1: Remove your make up and use facial cleanser to clean face
Step 2: Get a warm towel on face or using the facial steamer for 3 to 5 minutes to open the skin pores
Step 3: Apply some deriving liquids or cream to the spot for 5 to 10 minutes to release blackheads
Step 4: Please test the suction intensity on your hand firstly and then apply it to your face.
Step 5: Move the equipment back & forth around the spot slowly.
Step 6: After cleaning face, apply a facial mask or pore liquid to shrink your pore
What you get?
1 x skin scrubber
1 x USB cord
1 x users manual(in English)
Attention:
1) Clean your skin with mildly wash or water (keep skin wet) before using.
2) Keep the device clean and disinfect.
3) Do not use the device around the eyes or on the ground.
4) 1-2 times per day, no more than 15 minutes each time.
5) Do not use the device for the same part for more than 6 hours.