Features:
1、PTC generates heat, uniform heating, low thermal resistance, fast heat generation, automatic constant temperature, power saving, and will not produce "redness" on the surface of electric heating tube heaters, avoiding potential safety hazards such as burns and fires.
2、Built-in constant temperature control system, the r0om temperature reaches the set temperature, the machine automatically sleeps, and the room temperature is lower than the set temperature to resume work and warm up, prevent overheating, save energy and save electricity.
3、Quiet and no wind feeling, static convection heating design is suitable for people with light sleep, no wind noise and no dryness, bringing you warmth.
4、The LED temperature display allows you to know the indoor temperature more clearly.
5、Metal grid design, high temperature resistant fine grid design heat dissipation, faster and safer.
6、It can be rotated to a suitable angle, and the back plug can be rotated 360° to get rid of the constraints.
Package Included:
1 x Desktop Remote Electric Space Heater
1 x Remote control (battery not included)
1 x plug adapter
1 x user manual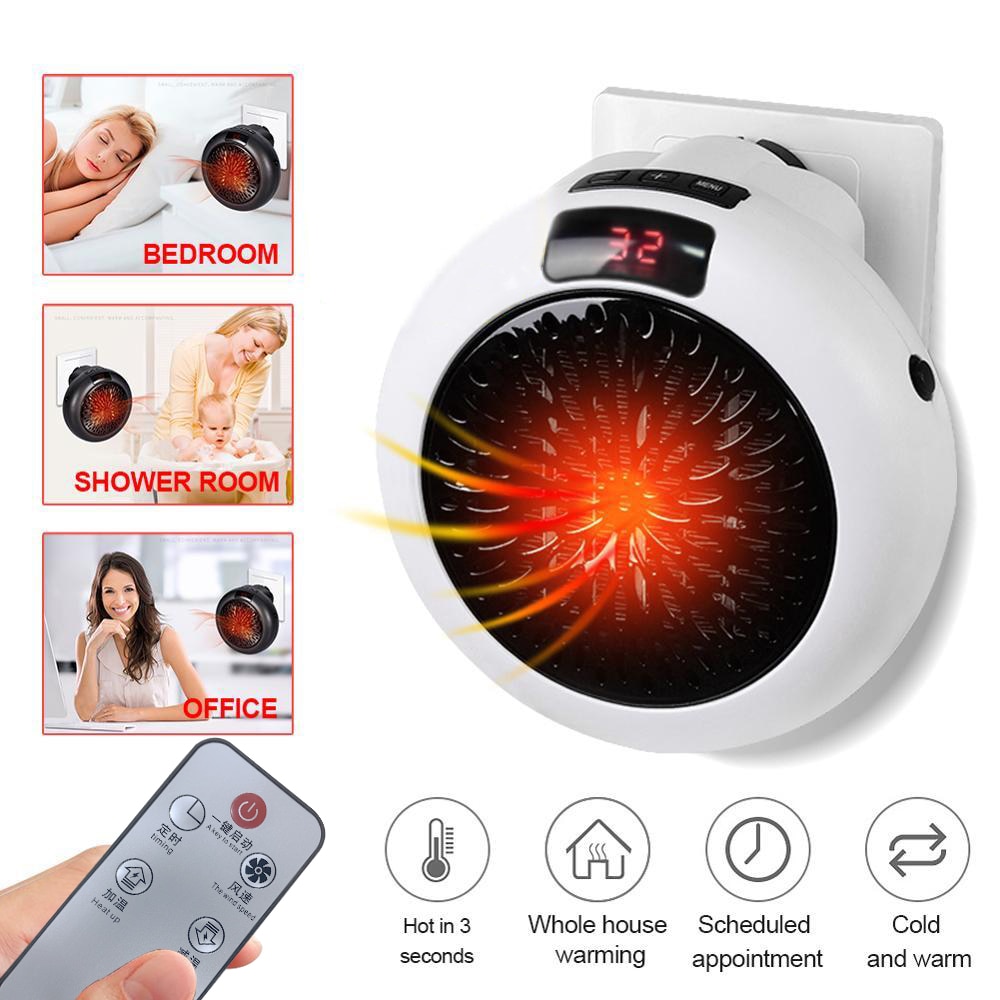 Function:
1、There are several buttons on the top of the heater that make it easy to control the heater with a single push.
2、Designed with overheat protection function, the power can be cut off when the temperature is overheated, the dump function is automatically cut off, and the power supply is stopped when the heater is dumped.
3、The swivel plug can be used in sockets in different positions for more convenient and easier use.
4、When the indoor temperature is the same as the temperature of the heater, the heater will stop working to saving power.
5、Great for anywhere at: Home, Bathrooms, Dorm Rooms, Offices, campers, basements, garages etc..
6、Digital LED Temperature display.
7、Space-saving design.
8、High&Low speed settings.
9、Safe Ceramic Heating Element.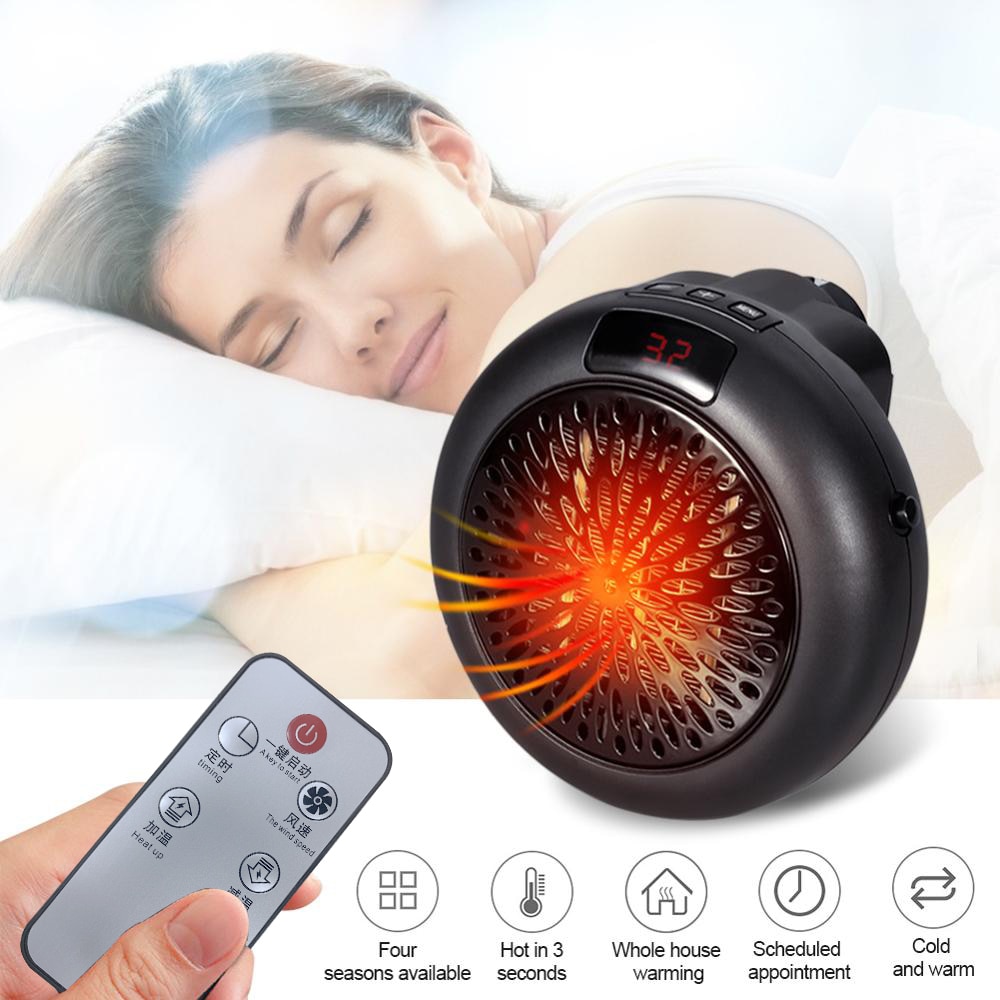 Specifications:
Name : Electric Warm Heater
Color:Black / White (optional)
Type: EU
Material: ABS shell + iron piece + heating sheet
Size:13.5*10.6*13.5cm
Display Screen:LED Digital
Power:900W
Voltage Rating:220-240V
Rated Frequency:50/60Hz
Set Temp:15-32°C
Idle Speed of Fan:3000(LOW) / 4400(HIGH) RPM
Air Volume:30(LOW) / 40(HIGH) CFM
Programmable Timer:1/2/3/4/5/6/7/8/9/10/11/12 Hour
Certificate: CE/RoHS
Heating method: electric heating wire
Speed adjustment gear: more than six gears
Timing function: more than 8 hours
Operation mode: dual-use mechanical remote control
Switch type: normal button
Heating appliance type: fan heater
Air supply mode: no page turning, no head shaking
Application area: 21-30㎡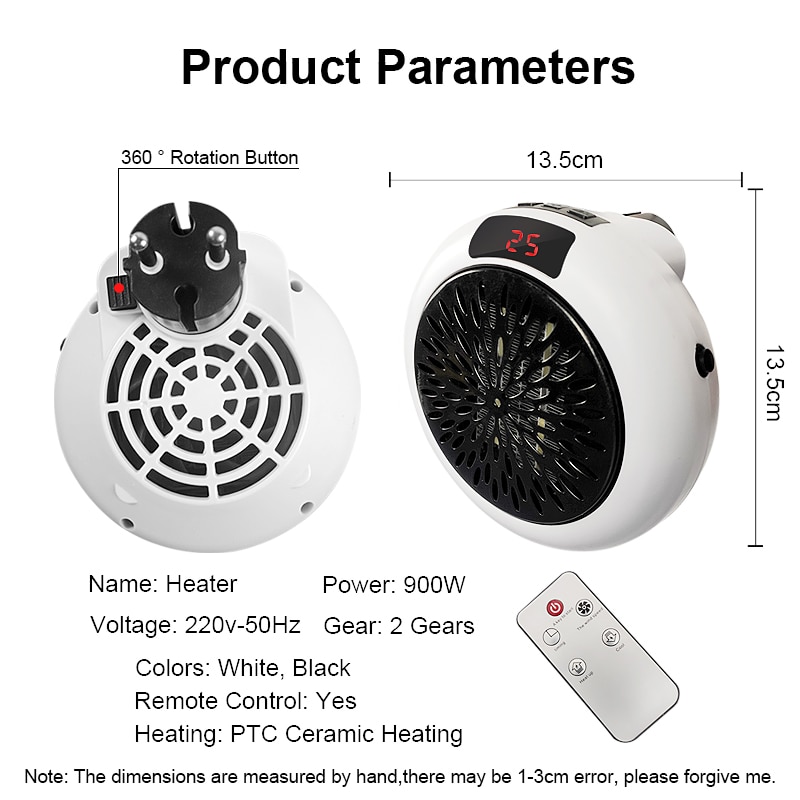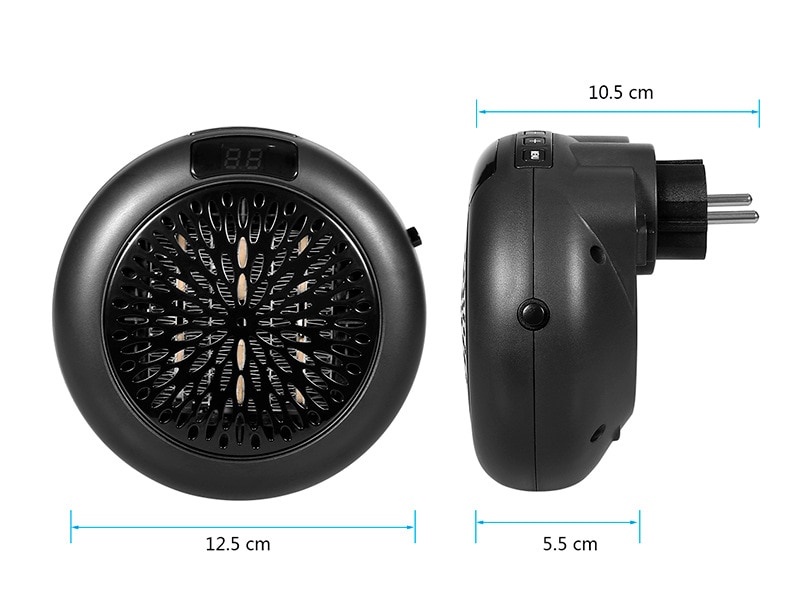 How to use it
step 1:plug warm air blower into desired power outlet.
step 2:push on/off switch on the unit.
step 3:choose your desired temperature by using the + button to increase temperature or — button to decrease temperature.
step 4:choose your desired fan speed by pushing the button on the right.
step 5:when complete push on/off switch again and unplug warm air blower from power outlet. store in a safe place.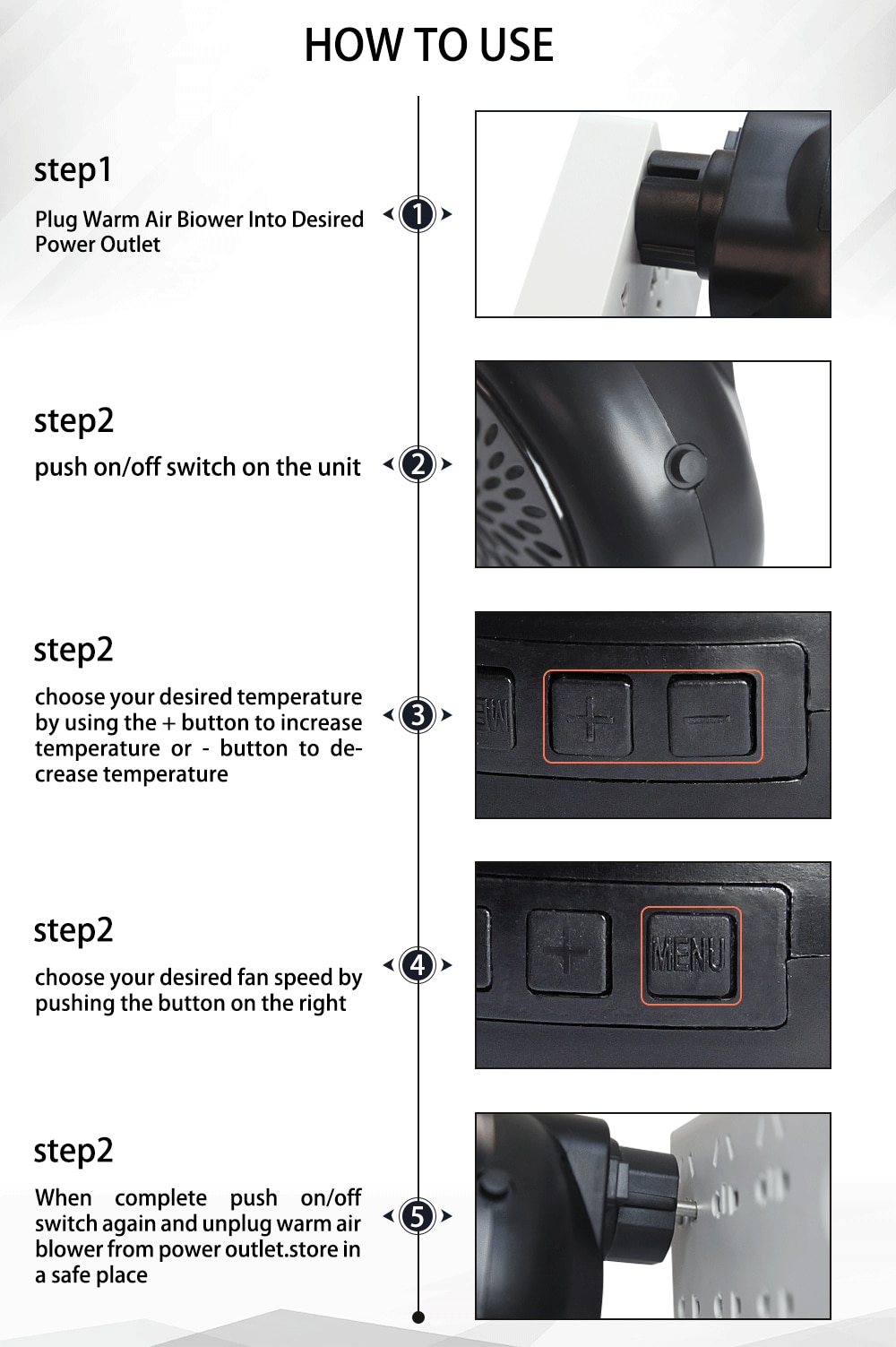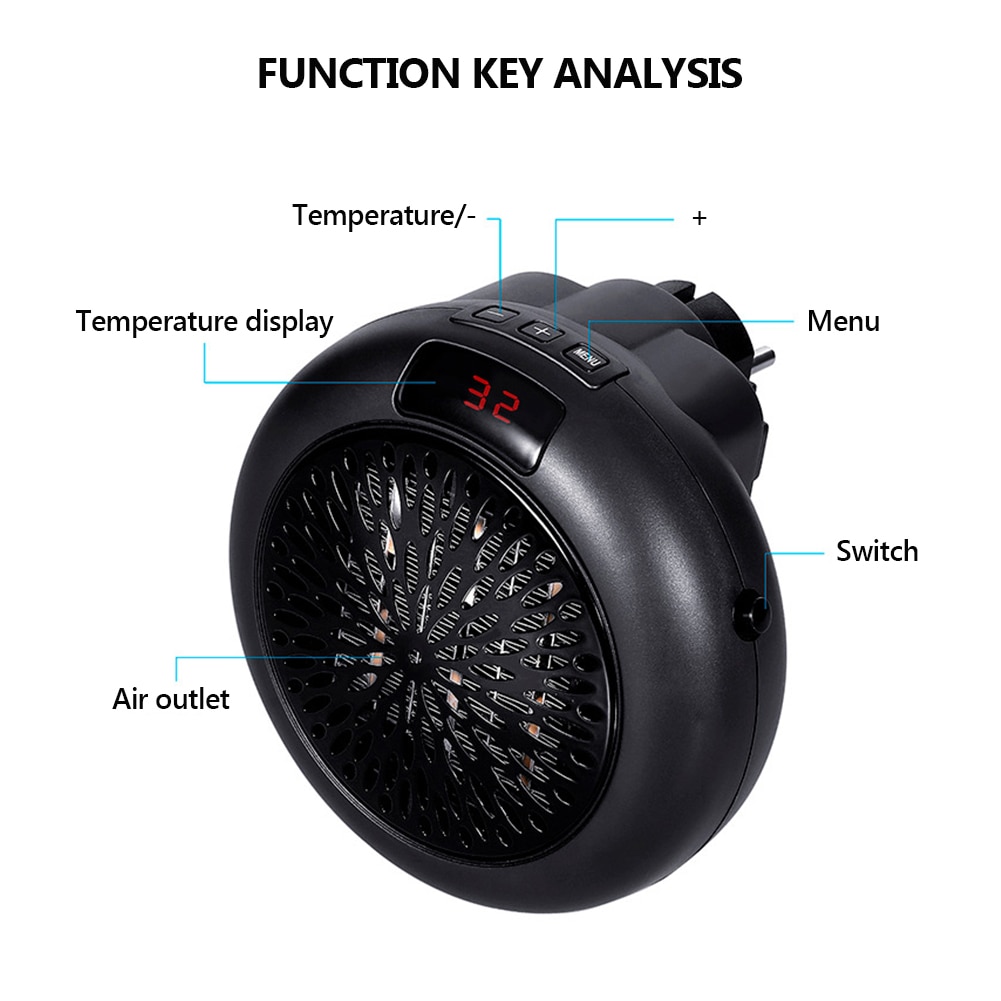 PTC HEATING FAN REALIZES CONVECTION
After the PTC ceramic heater is electrified, it will generate heat. The fan will blow out the hot air, which will make the air produce convection and realize large area heating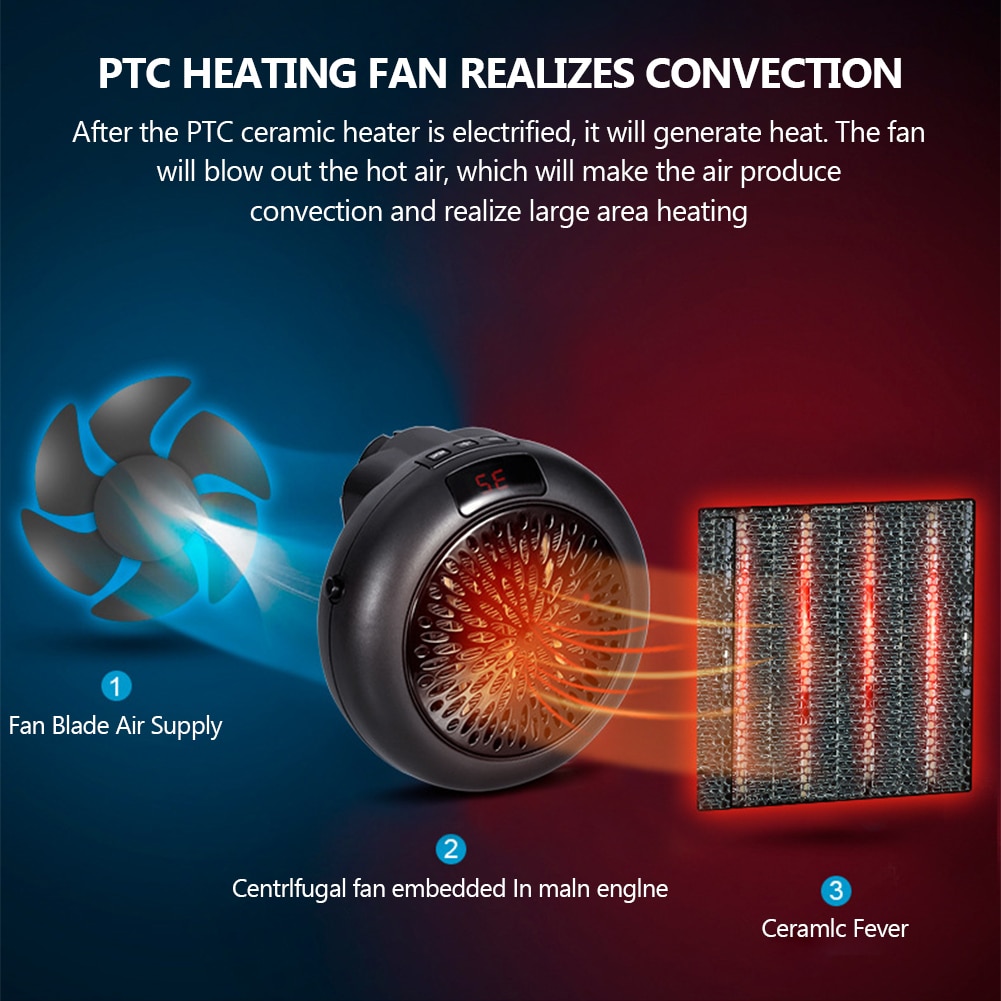 Double safety heating guarantee
Temperature control system + overheat protection,protect your safety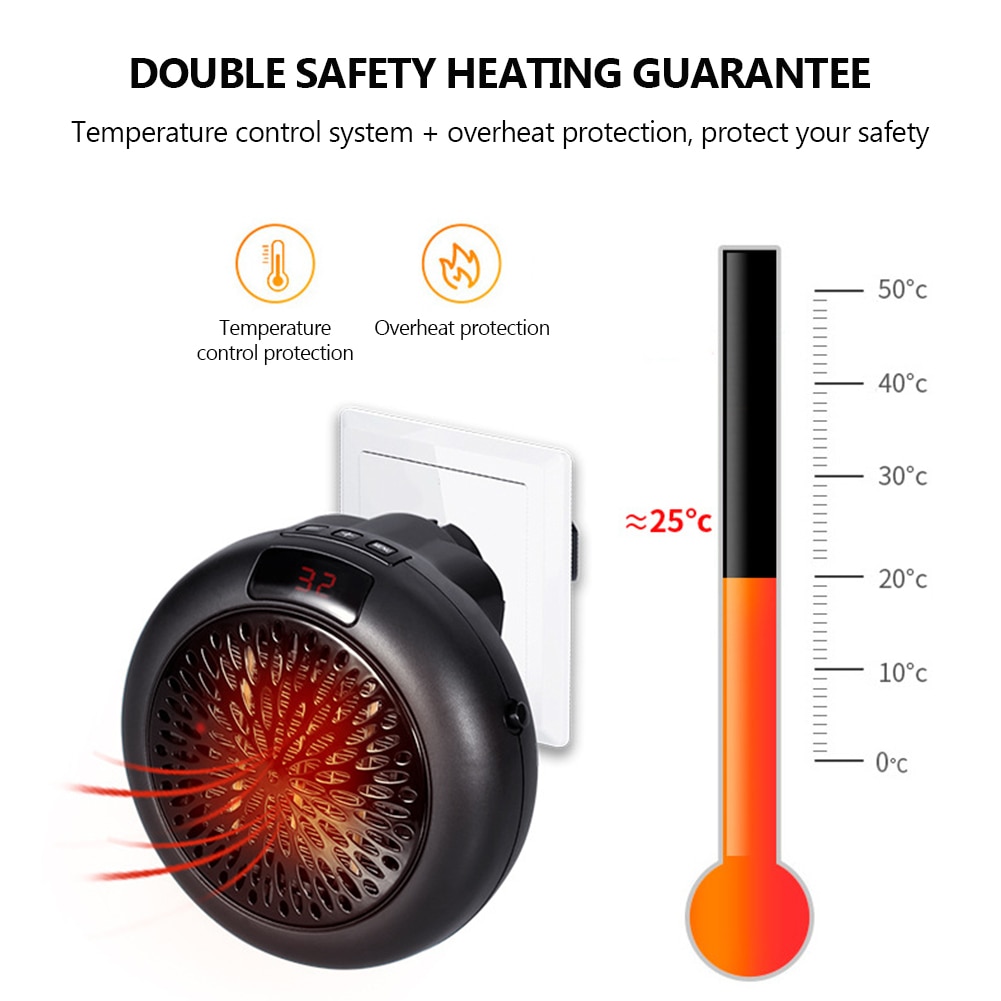 Built in constant temperature control system
When the room Temperature  reaches the set temperature,the machine will sleep automatically. When the room Temperature is lower than the set temperature,the machine will resume working and heating to prevent overheating,saving energy and electrici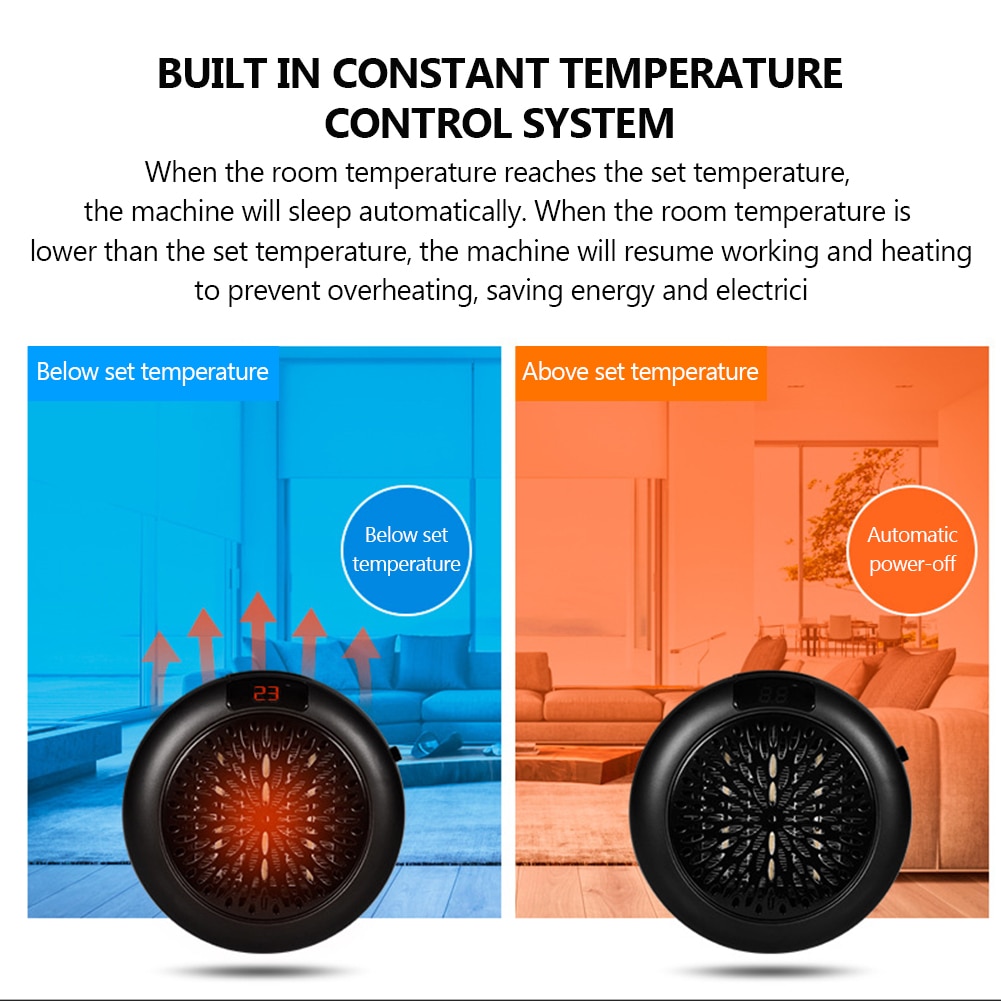 1、LED TEMPERATURE DISPLAY
Temperature display enables you to grasp indoor temperature more accurately
2、METAL GRID DESIGN
High temperature resistant fine grid design, faster and safer heat dissipation
3、ROTATABLE FIT ANGLE
Back plug can rotate 360 ° to get rid of shackles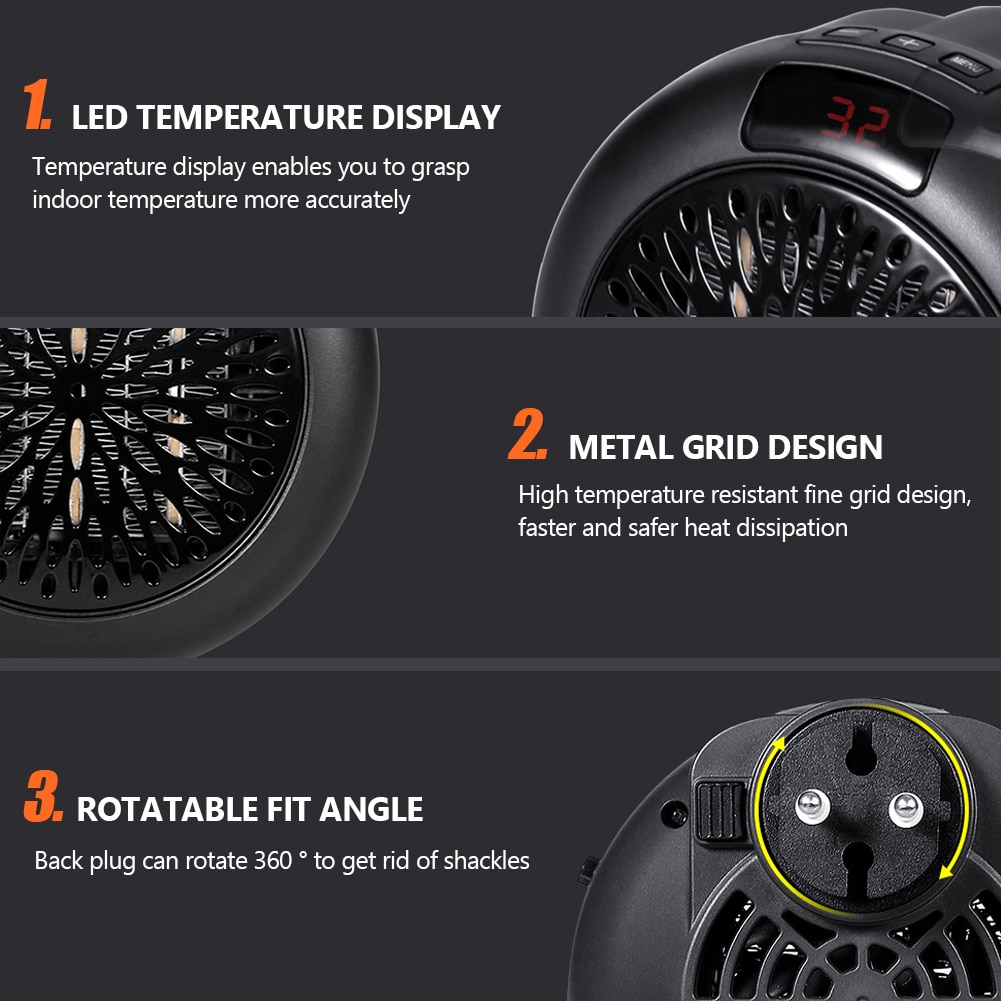 Remote control, NO need to get up
Warm companion at the desk
Don't be afraid of the cold this winter,put the heater in the office to say goodbye to the cold soles of your feet,frozen fingers,and you can work comfortably all winter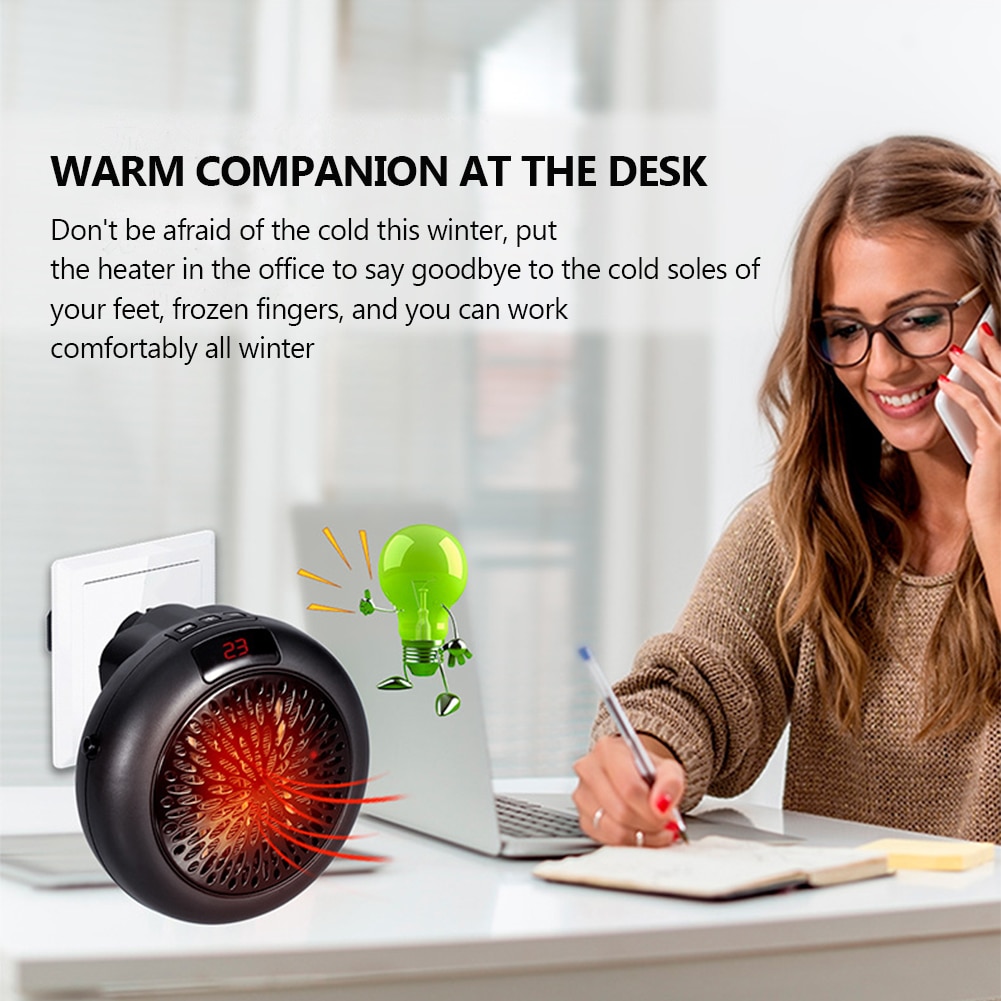 Mute fan leaves quiet sleep
noise reduction design,care for family's sleep. Quiet air supply,warm and accessible